38,926 Vacancies for Gramin Dak Sevaks Across India, Apply Now!
India Post is recruiting 38,926 Gramin Dak Sevaks. Candidates can check vacancy, eligibility, application link and notification here.
India Post GDS Recruitment 2022
India Post GDS Recruitment 2022: Golden opportunity for government job seekers because post office of India has announced vacancies for recruitment to the post of Gramin Das Sevak (GDS). Around 38926 vacancies are available in 35 states of India. Candidates willing to apply for India Post Recruitment 2022 must have passed 10th class. The age of the candidates should not be more than 40 years.
It is to be noted that, India Post GDS registration has started from today i.e. today 02 May 2022. Interested candidates are required to apply on or before 05 June 2022. Online applications are invited at indiapostgdsonline.gov.in.
Candidates will be selected as Branch Postmaster (BPM), Assistant Branch Postmaster (ABPM) and Dak Sevak and will be paid Rs. 12000 for BPM and Rs. 10000 for ABPM/Dak Sevak. There will be no exam. Only merit list will be prepared.
Knowledge of cycling is a pre-requisite for all the posts of GDS. In the case of a candidate who has knowledge of driving a scooter or a motorbike, the knowledge of driving a cycle may also be considered.
India Post GDS 2022 Important Dates
Starting Date of Online Application – 02 May 2022
Last Date of Online Application – 05 June 2022
India Post GDS 2022 Vacancy Details
Total Posts – 38,926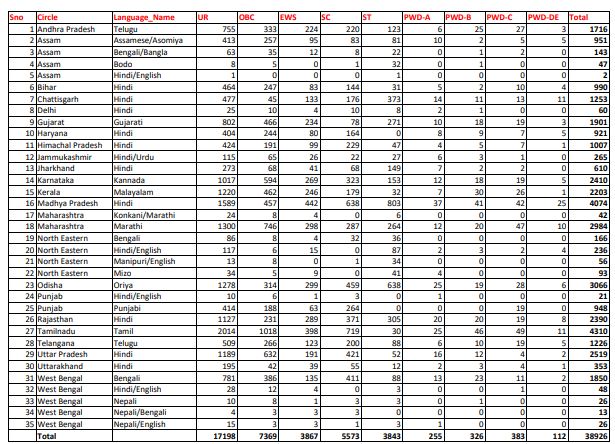 India Post GDS 2022 Salary:
BPM – Rs.12,000/-
ABPM/Dak Sevak – Rs.10,000/-
Eligibility Criteria for India Post GDS 2022
educational qualification:
Candidate must have passed 10th Class Secondary School Examination Certificate in Mathematics and English (Studied as Compulsory or Elective Subjects) conducted by any recognized Board of School Education by Government of India / State Governments / Union Territories . Must possess essential educational qualification for all approved categories of GDS.
The candidate should have studied the local language. (name of local language) at least up to class 10th.
Age Range:
Minimum age limit – 18 years
Maximum Age Limit – 40 Years
India Post GDS Selection Process 2022
The selection will be made as per system generated merit list based on the merit position of the candidate and the preference of the posts submitted. It will be subject to fulfillment of all eligibility criteria as per rules.
How to Apply for India Post GDS Jobs 2022?
Application can be submitted online only at https://indiapostgdsonline.gov.in.
Application fee:
Rupee. 100/-
( डाउनलोड करे Govt Jobs App )
Download Our Android App  – Download Latest Govt Jobs App
Subscribe to Our YouTube, Instagram and Twitter – Twitter, Youtube and Instagram.
Join Our Telegram Group for Instant Job and Study Information Daily Update
---
DISCLAIMER: 10th12thPassGovtJobs.Com does not have any connection with the Government and it does not represent any Government entity. No claim is made about the accuracy or validity of the content on this site, or its suitability for any specific purpose whatsoever whether express or implied. Since all readers who access any information on this web site are doing so voluntarily, and of their own accord, any outcome (decision or claim) of such access. All the Readers please also check details on the Original website before taking any decision. Here we are not responsible for any Inadvertent Error that may have crept in the information being published in this Website and for any loss to anybody or anything caused by any Shortcoming, Defect or Inaccuracy of the Information on this Application.
---