Download Question Paper (PDF)| CBSE Board Exam 2022
Check and download the CBSE Class 12th Term 2 Hindi Question Paper 2022 PDF below. Students have described the exam as moderately difficult this time.
CBSE Class 12 Term 2: Hindi Question Paper
CBSE Class 12 Hindi Term 2 The exam has been conducted today in morning shift at various centers across the country. Thousands of students have appeared for Term 2 exam today. View and Download Class 12th Term 2 Hindi Exam Question Paper through the link given below. Also, find out other important links for CBSE Term 2 Exam 2022 at the end of the article. This year around 14 lakh students are appearing in the CBSE Term 2 Class 12 examination.
Students must know that the paper was reported as moderately difficult by many students and thus easy marking is to be expected. However, it cannot be said with certainty that the marking will be easy.
CBSE Class 12 Hindi Term 2 Question Paper : PDF Download
View and download the PDF copy of the question paper from the link given below. The exam was for 40 marks conducted for 2 hours i.e. from 10:30 AM to 12:30 PM.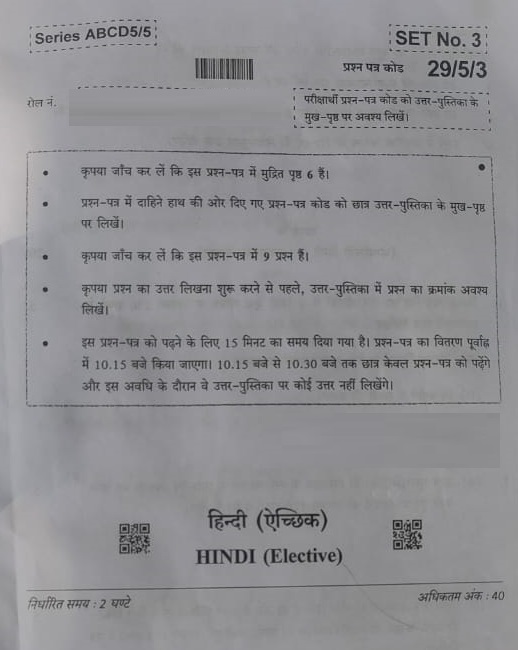 The paper was divided into different sections with essay writing of 5 marks and letter writing of 5 marks. Students had internal choices in many questions like essay, letter and even the literature part. There was also an internal choice for the students in the literature part which had questions of maximum 3 and 2 marks. The paper was longer than many students expected. Check student feedback and expert analysis in the article below.
CBSE Board exams have started for term 2 on 26th April, 2022. Class 12th students have appeared for their first major examination today. The next big exam will be Chemistry which is to be held on May 7, 2022.
Today CBSE Board Class 10th students have appeared for their Home Science exam which was touted as a great paper by many students.
Check out the following articles which may be useful for the students appearing for CBSE Class 12 Term 2 exam.
CBSE Class 12 Sample Papers 2022 (Term 2)! Download PDF of CBSE Marking Scheme

Term 2—CBSE English Core Class 12: Check Out Most Important Poetry Questions. CBSE Board Exam 2022
CBSE Class 12 English Core Exam 2022: Important Context Based Questions for Term 2 Revision!

( डाउनलोड करे Govt Jobs App )
Download Our Android App  – Download Latest Govt Jobs App
Subscribe to Our YouTube, Instagram and Twitter – Twitter, Youtube and Instagram.
Join Our Telegram Group for Instant Job and Study Information Daily Update
---
DISCLAIMER: 10th12thPassGovtJobs.Com does not have any connection with the Government and it does not represent any Government entity. No claim is made about the accuracy or validity of the content on this site, or its suitability for any specific purpose whatsoever whether express or implied. Since all readers who access any information on this web site are doing so voluntarily, and of their own accord, any outcome (decision or claim) of such access. All the Readers please also check details on the Original website before taking any decision. Here we are not responsible for any Inadvertent Error that may have crept in the information being published in this Website and for any loss to anybody or anything caused by any Shortcoming, Defect or Inaccuracy of the Information on this Application.
---